What is a T-47?
The T-47 is a Residential Real PropertyLand and anything permanently affixed thereto — including buildings, fences, trees, and minerals. Affidavit (notarized document) that accompanies a surveyA precise measurement of a property by a licensed surveyor, showing legal boundaries of a property and the dimensions and location of improvements. in a transactionApplies to any business dealing. In real estate, it is an instance of exchanging ownership of a property. . It's purpose is to validate the accuracy of survey obtained previously and explain differences resulting from subsequent improvements and changes to the property.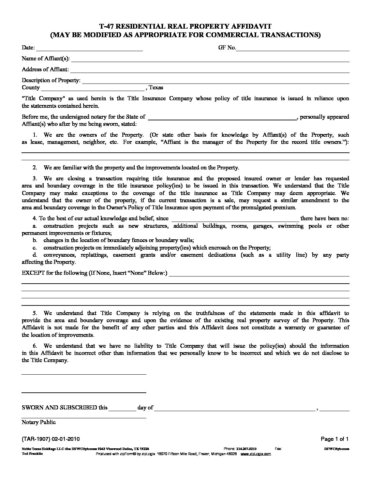 Why should I provide a T-47?
First, If you can't find a survey, don't bother filling in the T-47.  Usually, look in closingThe process of completing a financial transaction. For mortgage loans, the process of signing mortgage documents, disbursing funds, and, if applicable, transferring ownership of the property. In some jurisdictions, closing is referred to as "escrow," a process by which a buyer and seller deliver legal documents to a third party who completes the transaction in accordance with their instructions. See… documents from your purchase or refinancing for the survey. A new survey runs somewhere around $400 for a typical residential property. If you have land or a large residence the fee can by higher. 
Surveys and T-47's are required by the TitleThe right to, and the ownership of, property. A title or deed is sometimes used as proof of ownership of land. Company, lenderThe lender providing funds for a mortgage. Lenders also manage the credit and financial information review, the property and the loan application process through closing. and buyer to close. Existing surveys accompanied by a T-47 Affidavit are acceptable if they are an accurate representation of boundaries of land and improvements of the property. If you don't have an acceptable survey, either buyer or seller might be required to purchase a new one as specified in your contract in paragraphs 6.C.(2) or (3). You can use email to deliver the survey and T-47, digital copies of the survey and T-47 are usually acceptable by the Title Company. 
Look at Paragraph 6.C. (1) in your contract. Read it! It specifies how long you have to provide the survey and T-47 to the Title Company (they deliver it to the buyer) and specifies who pays for a new survey if it is not acceptable. NoteA written promise to pay a specified amount under the agreed-upon conditions.: This is a tricky paragraph. If you deliver the survey and T-47 within the number of days and it is not acceptable, the party specified pays for a new survey. If you do not provide it by the deadline, the seller pays regardless even if buyer party is specified, only if it is not acceptable. 
Who needs the T-47?
The Title Company needs a survey to document the property for the issuance of title insuranceInsurance that protects lenders and homeowners against legal problems with the title.. The buyer and lenderThe lender providing funds for a mortgage. Lenders also manage the credit and financial information review, the property and the loan application process through closing. needs it to document and review property lines, easements, improvements, and other things.
How should I complete the T-47?
Some fields are simple – date, name, address. The Affiant is you the seller. If you are married or own the home in common with someone, only one of you needs to fill their name in and sign in front of a notary. Leave GF No. number blank – this is a file number for use by the title company at which you sell your home.
The description is the legal description of the property. It is in your contract in Paragraph 2. and in your ListingAn agreement of which a property is marketed through a service or association composed of several agents with fees and a commission from the sale of a property shared between the selling broker and the listing broker. Agreement in Paragraph 2. Or, you can look that up in tax records or ask your BrokerA person or firm that acts as an agent between providers and users of products or services, such as a mortgage broker or real estate broker. See also "Mortgage Broker." to get it for you. 
Item 4 – this allows you to write the date that you bought the home (or the date of the survey if the survey was more recent). Then you have to put a list of things that you have changed that might affect the accuracy of the existing survey.
If nothing has changed impacting boundaries of the property, make sure to write in "None" after "Except for the following". If you have made changes, list them here instead of answering "None". Typically these are changes in fence locations and utility lines, and construction projects such as pools, garages, additions. 
Take the T-47 to a notary to sign it and notarize it. Notaries are found in banks, title companies, and law offices.
Where can I get a T-47 document?
The T-47 is available buy clicking on the thumbnail above or you can get one from your title company, listing agent, or Texas Insurance CommissionThe fee charged for services performed, usually based on a percentage of the price of the items sold (such as the fee a real estate agent earns on the sale of a house). .
Notice: This website contains general information about legal and financial matters. The information is not advice, and should not be treated as such. You must not rely on the information on this website as an alternative to legal or financial advice from your attorney, accountant or other professional services provider. If you have any specific questions about any legal and financial matter you should consult your attorney, accountant or other professional services provider.